Dla uwagi / Nábytok a bývanie 2016, Nitra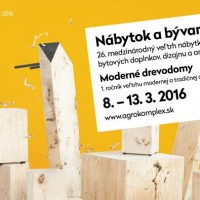 We would like invite you to visit our exhibition stand in Hall A, stand no. 15, at the exhibition Nabytok a byvanie 2016 in Nitra, which start Aug. 08 - 03/13/2016 (at the time 09: 30-18: 00 pm; 03.13.2015 time 09: 30-15: 00.) .
If you are a little bit thinking about buying a new lamp or the replacement of old one, you have a great opportunity to discuss directly with us as the only producer in the Slovak Republic.
Simplification for you will be that we will have over 50 different exhibits crystal chandeliers, which provide discounts and special exhibition.
Before entering to the exhibition please call us and our worker free to bring directly to our exposure.
we look forward on you Ing. Mikulas Lapisak
company owner
Contact: +421 907 640 407
Więcej wyrobów