In attention / SACROEXPO SLOVAKIA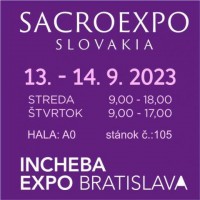 We would like invite you to visit our exhibition stand in Incheba Bratislava Hall A0, stand no. 105, at the international fair SACROEXPO SLOVAKIA in Bratislava, which start 13-14. September 2023 (13th September at the time 9:00-18:00.; 14th September 2023 time 9: 00-17:00.).
Tickets for free HERE
SACROEXPO Slovakia is a sister edition of the International Exhibition for the Construction and Equipment of Churches and Church Facilities and Religious Art, which will be focusing on the region of Slovakia, the Czech Republic, Hungary and Austria.
More items
Your country
Client zone