In attention / SWAROVSKI ELEMENTS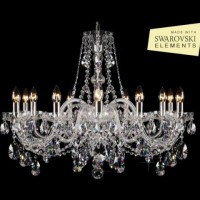 We would like to draw your attention to lightings with pendants SWAROVSKI ELEMENTS.
Chandeliers with pendants SWAROVSKI ELEMENTS, which are nowadays very successful are offered to the most demanding clients.
Chandelier has the highest quality pendants in the world, there are not higher quality of crystal pendants in the market right now.
Our company owns the certificate to use high quality pendants. Every pendant has SWAROVSKI ELEMENTS logo made by laser on it.
Armature, horns, bowls and centerpieces of those chandeliers are made from polished handmade high quality crystal details. So, we can say, that in those chandeliers Austrian precision machinery produced pendants of SWAROVSKI ELEMENTS are harmoniously connected with handmade crystal parts BOHEMIA CRYSTAL .
Crystal chandeliers with SWAROVSKI ELEMENTS trimmings that will raise the price of a standard chandelier about 300%.
More items
Your country
Client zone